Installation
GIVE by Lorenzo Quinn is unveiled at The Uffizi Gardens, Florence
We are proud to announce the inauguration of Lorenzo Quinn's Give at the Uffizi Gardens in Florence this week. This latest creation by Quinn is a gift from the artist and Halcyon Gallery to the Italian city of Pietrasanta, where it will proudly be displayed at the International Sculpture Park from September.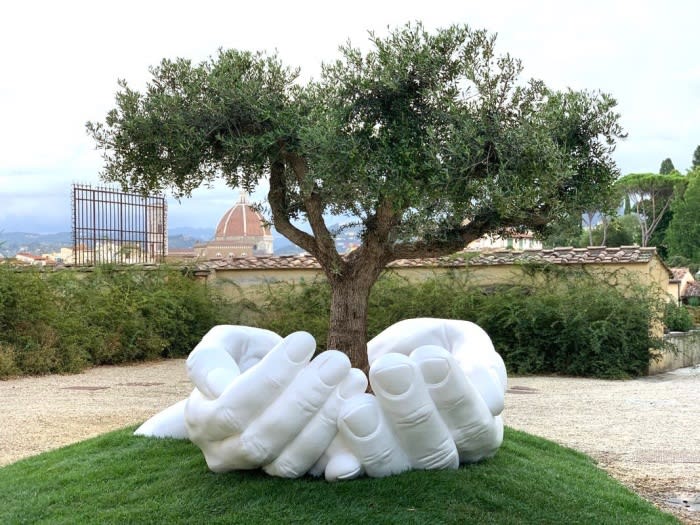 'The inspiration for this piece comes from the relationship between humanity, the world, and in particular, nature that has always given and continues to give without demanding anything in return.' - Lorenzo Quinn
Give teaches us to appreciate all we receive and emphasises the need to give back. The sculpture shows the hand of a man joining that of a woman to underline the value of giving. The work is the bearer of a message of peace addressing humanity which is symbolised by an olive tree. The sculpture is made of resin and recycled materials to further convey a message of environmental sustainability.
The director of the Uffizi Galleries, Eike Schmidt, presenting the sculpture said:
'Once again the Uffizi are the protagonists of an artistic initiative that connects the capital with another city on the territory of Tuscany. Boboli's garden temporarily welcomes a work destined for Pietrasanta, to bring together the respect, attention, and protection due to the environment and our beautiful landscape.'
The mayor of Pietrasanta Alberto Stefano Giovannetti:
'When the master Lorenzo Quinn expressed his desire to give the community of Pietrasanta the work 'Give' we were honored because it is a tribute to this land that has always been linked to the culture of art. This donation to the patrimony of the City of Pietrasanta International Sculpture Park will mark the relationship of esteem and long friendship of master Quinn towards the local workers and the city itself. A beautiful gesture that, especially in this historical period, takes on an even more significance.'
6 August 2020