Essay
Andy Warhol's Shoes and other Early Illustrations
By Kate Brown, Art Director, Halcyon Gallery
Andy Warhol moved to New York in 1949. Working as an illustrator for some of the biggest fashion brands and publications, he soon became one of the city's most successful commercial artists. His work appeared in the likes of Vogue, Harper's Bazaar, and the New York Times. His instantly recognisable, signature blotted-line drawing style was highly popular among the art directors of major fashion brands and he was awarded numerous industry accolades during the 1950s. Works such as Tattooed Woman Holding a Rose were used as a business card for prospective clients, with his contact phone number scrawled across the front of his subject's outfit - a paradigm of Warhol's unapologetic synthesis of art and commerce.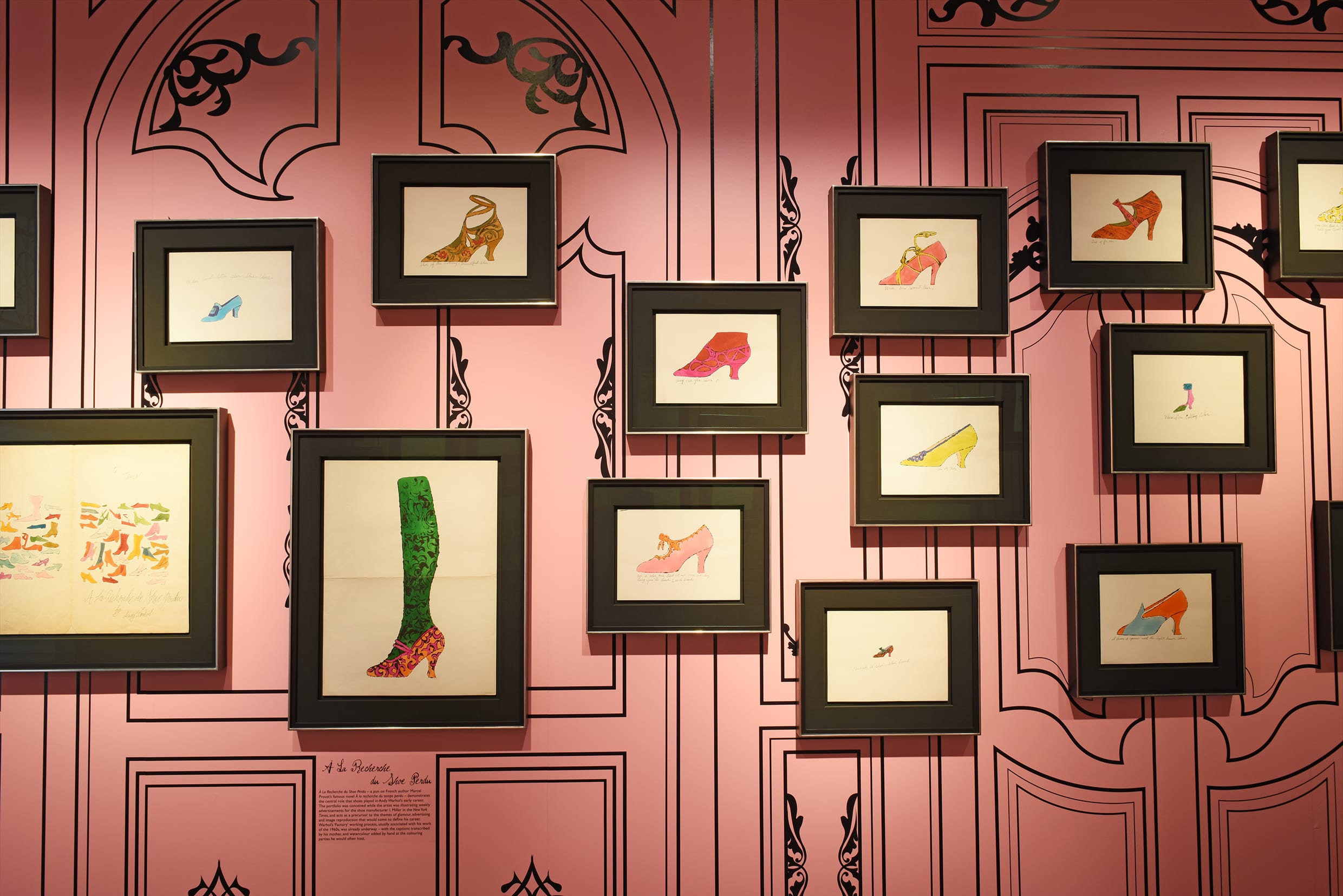 Warhol self-published books, individual prints and cards to promote his fanciful and elegant drawing style. He would gift these to friends and clients alike. Meanwhile, he was also pursuing a career as a fine artist and held numerous small exhibitions of his drawings of shoes, cats, flowers, and portraits. Warhol's early illustrations of the 1950s offer a more intimate encounter with the artist than the cool persona fronting his Pop art aesthetic of the 1960s and beyond. Revealing his masterful grasp of the simple line drawing, his great capacity to find endless variations of a single theme, and his conceptualisation of art made for reproduction, this body of work represents stage one of Warhol's fascinating artistic career.
Warhol's early artistic career was encouraged by Tina Frederick's, the former Art Director of Glamour magazine who acquired a drawing from the young artist in 1949. Asking him, 'What else do you do?' Warhol had replied, 'Anything.' and she commissioned a series of illustrations of women's shoes for the magazine. 'A few days later', she recalled, 'He came back with the drawings of battered, worn shoes. They were terrific, but they wouldn't sell shoes.' Ever eager to please, Warhol returned with drawings of shiny new shoes that won critical acclaim and commercial success, so much so that Women's Wear Daily referred to him as the 'Leonardo of the shoe trade'. His work also drew the attention of founding editor of Artforum magazine, John Coplans, who observed, 'Nobody had ever drawn shoes the way Andy did. He somehow made each shoe have a temperament of its own, a sort of sly [...] kind of sophistication, but the shape and the style came through accurately and the buckle was always in the right place ... the vamps on Andy's shoe drawings kept getting longer and longer but I. Miller loved them.'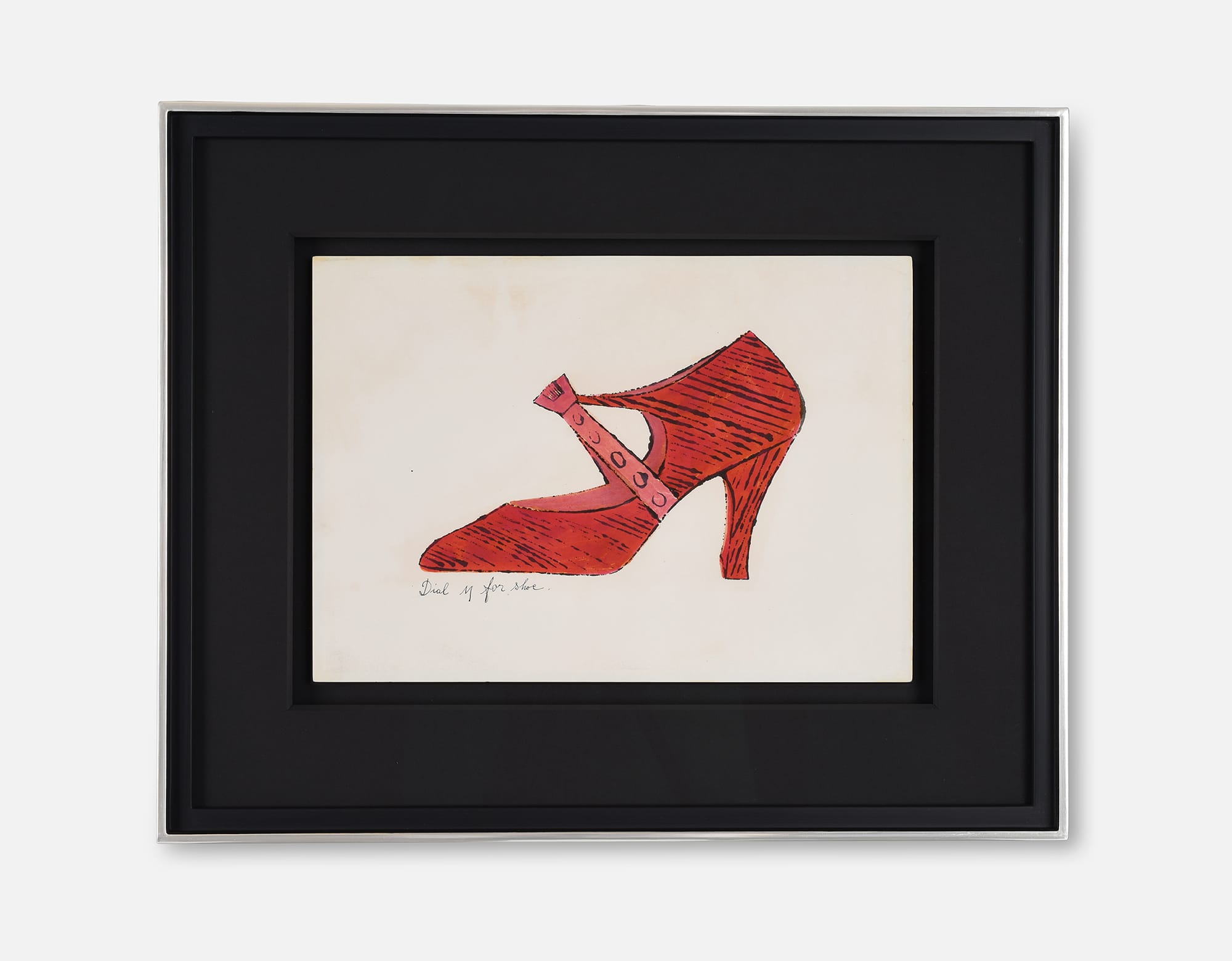 Subsequently, Warhol was the sole illustrator for shoe manufacturer I. Miller between 1955 and 1957, making new drawings of shoes each week for ads in the New York Times. The portfolio of artworks À la recherche du shoe perdu celebrates the central role that shoes played in his early career and imagination. The title is a riff on Marcel Proust's famous novel À la recherche du temps perdu (In Search of Lost Time, or Remembrance of Things Past). The captions accompanying Warhol's shoes, with their distinctive cursive lettering, were transcribed by Warhol's mother, Julia Warhola. They were witticisms derived from popular phrases: 'Uncle Sam wants shoe!' or 'See a shoe and pick it up, then all day long you'll have good luck!'. By 1959 Warhol had already established the 'Factory' working process he would become famed for, delegating work to various people around him. Warhol, his friends and his assistants hand-coloured the sheets at colouring parties organised by the artist, 'turning a mechanically reproduced image into a one-of-a-kind'.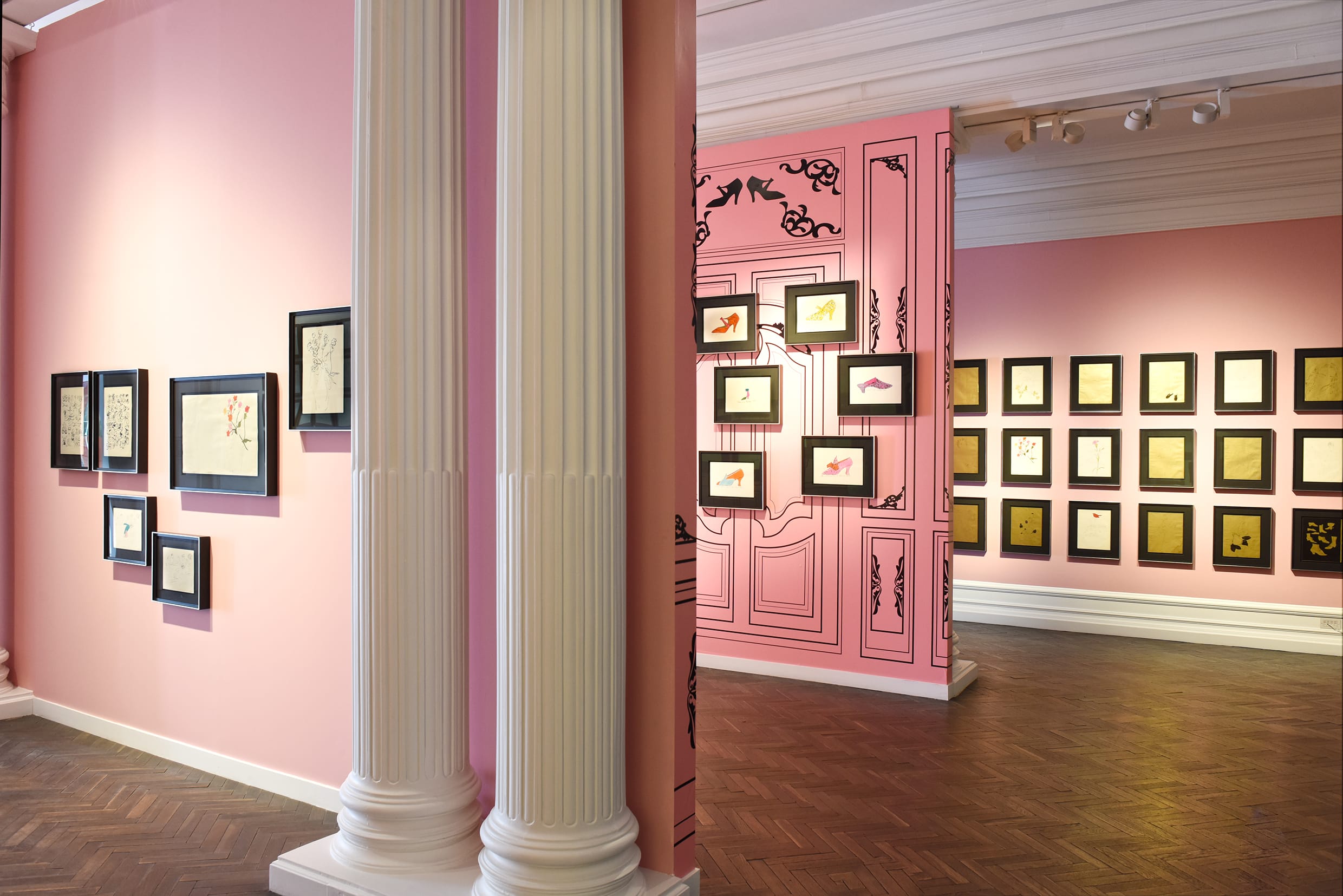 ___________________
Jesse Kornbluth. 'Andy: The World of Warhol' in New York magazine (New York, 9 March 1987), pp 38-49. David Bourdon, 'Andy Warhol's Exhibition' in Art News, October 1969. During his lifetime, John Coplans (1920-2003) was an artist, photographer, writer and curator. In 1962 he co-founded the magazine Artforum, and later held the position of Editor-in-Chief for the magazine from 1972 to 1977. Coplans was a leading champion of Pop Art and great advocate of Andy Warhol. In 1968 he curated the seminal exhibition Serial Imagery at the New York Graphic Society and Pasadena Art Museum, which featured a significant selection of Warhol's art. A 'vamp' is the outer part of a shoe or boot that covers the toes. John Coplans quoted in Janice West, 'The Shoe in Art, The Shoe as Art' in Footnotes: On Shoes, by Shar Benstock and Suzanne Ferris (Toronto, 2001), p. 44. Sara Krajewski, 'Printed Books and Ephemera 1953-1974' in Sara Krajewski (ed.), Andy Warhol Prints: From the Collections of Jordan D. Schnitzer and his family Foundation, exh. cat., (New York, 2016), p. 22.
8 July 2020