Harrods
Art at Harrods by Halcyon Gallery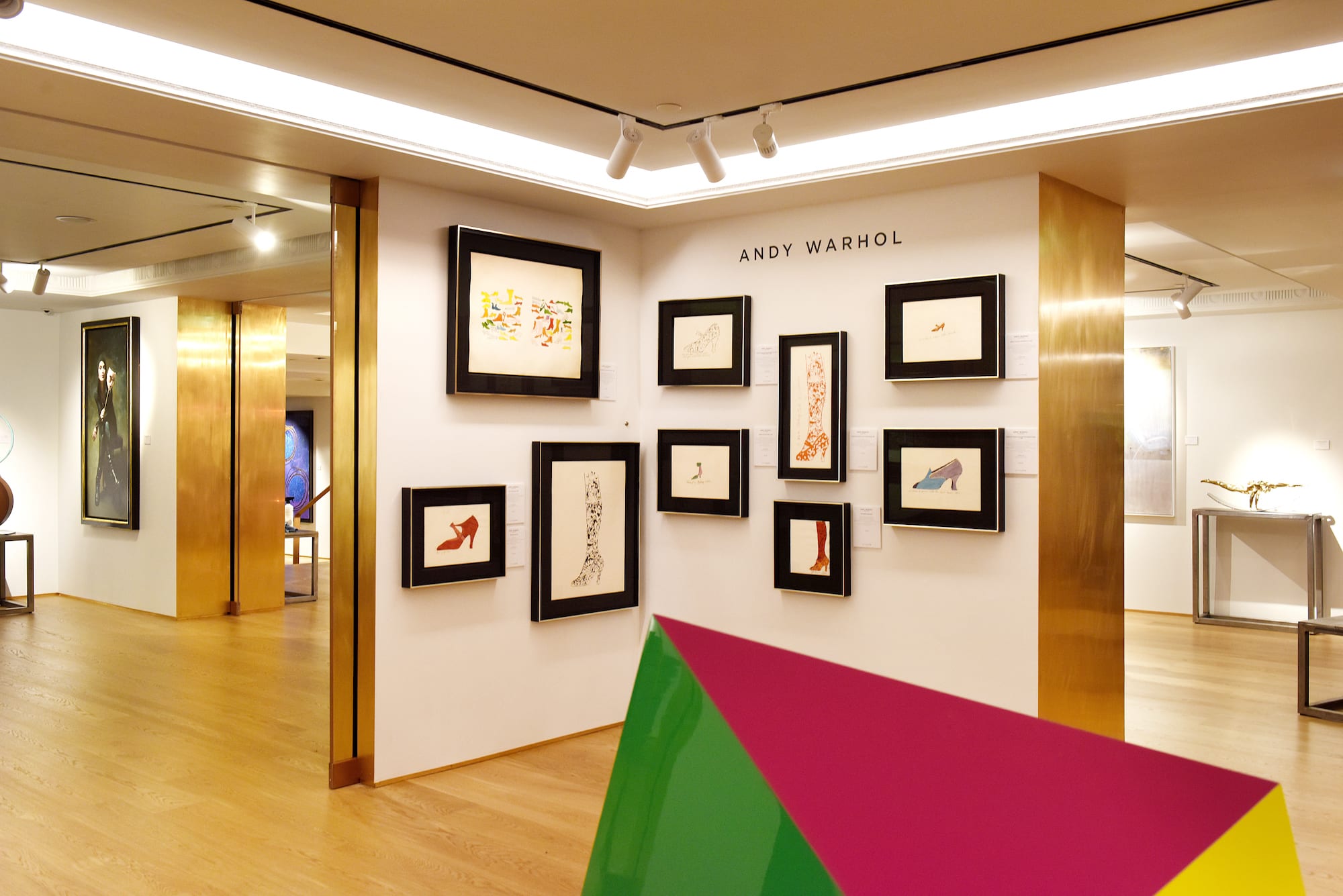 At the heart of this ground-breaking collaboration is a brand new gallery space on the 3rd floor, featuring world-class artworks by great masters, including Andy Warhol and Pablo Picasso, and some of the most celebrated living artists, such as Bob Dylan, Dale Chihuly, Lorenzo Quinn, Paul Cummins, and Russell Young. Our primary focus will be on showcasing immersive works, including boundary-breaking digital exhibits. Further installations will be placed around the store, and continuously updated, as part of the new art enrichment programme.
To celebrate the launch of Art at Harrods, the iconic Brompton Road Harrods windows will be transformed into a public exhibition during January, showcasing the renowned Anglo-American pop artist Russell Young Diamond Dust collection of ICONS created exclusively for Harrods. Iconic protagonists featured include: Marilyn Monroe, Kate Moss, Brigitte Bardot, Sophia Loren, Audrey Hepburn, Elvis Presley, Muhammad Ali, Mick Jagger, David Bowie, Jackie Kennedy, Bruce Lee. The ICONS exhibition continues in the new Halcyon Gallery on the 3rd floor which spans over 4000 sq ft.
Young, who boasts Brad Pitt, Kanye West, and Barack Obama, as just a small snapshot of his world-famous collectors, has a show business background. He was commissioned to photograph George Michael for the sleeve of his Grammy Award-winning album Faith in 1987. It led to assignments shooting musicians including Morrissey, Bjork, Bruce Springsteen, Bob Dylan, REM, and The Smiths before he went on to shoot more than 100 music videos for leading artists at the height of MTV's popularity in the 1990s. Young only started painting towards the end of the decade after moving to New York in 1998 and renting a small studio in Williamsburg. In 2003 he launched his first exhibition, a sold-out show of Andy Warhol-style prints called Pig Portraits in Los Angeles.
Speaking at the launch of the new Halcyon Gallery space and Brompton Road window takeover, Halcyon Gallery Managing Director Russell Green said:
"We are incredibly excited to start this new partnership. Harrods is the most prestigious store in the world and our new gallery on the 3rd floor will definitely create a unique experience for the millions of visitors to the store".
Growing up in Yorkshire in the seventies, Young was inspired by the iconic Hollywood movies he would watch with his father, getting wrapped up in the stories of America and falling in love with the superstars on screen.
Young remains true to his medium, screen-printing on the same printer originally used by cultural icon and Pop Artist Andy Warhol. Young describes the physical process of screen-printing as being a traditional method of making art, previously used for mass advertising and eventually popularised by Warhol. Young began to experiment with diamond dust in 2007, having been drawn to the opulence of the light shimmering off the multi-faceted glass. Each of these original, hand-pulled works combined screen-printing on linen with diamond dust to capture a sense of glamour and beauty.
ICONS at Harrods follows Young's landmark retrospective at Modern Art Museum, Shanghai, in 2018. Young was the first American- British contemporary artist to ever exhibit at the prestigious museum. Young's work is represented in numerous prestigious collections, including the Polk Museum of Art in Florida, the Albertina Museum in Vienna, the Istanbul Museum of Modern Art and the Saatchi Collection among many others. Young has exhibited in museums and galleries in London, Paris, Vienna, Berlin, Tokyo, Singapore, New York, Detroit, Miami, and Los Angeles.
Russell Young's ICONS exhibition runs throughout January at Harrods previewing Russell Young's next major exhibition which opens at Halcyon's New Bond Street Gallery in February 2020 FAME.
8 January 2020