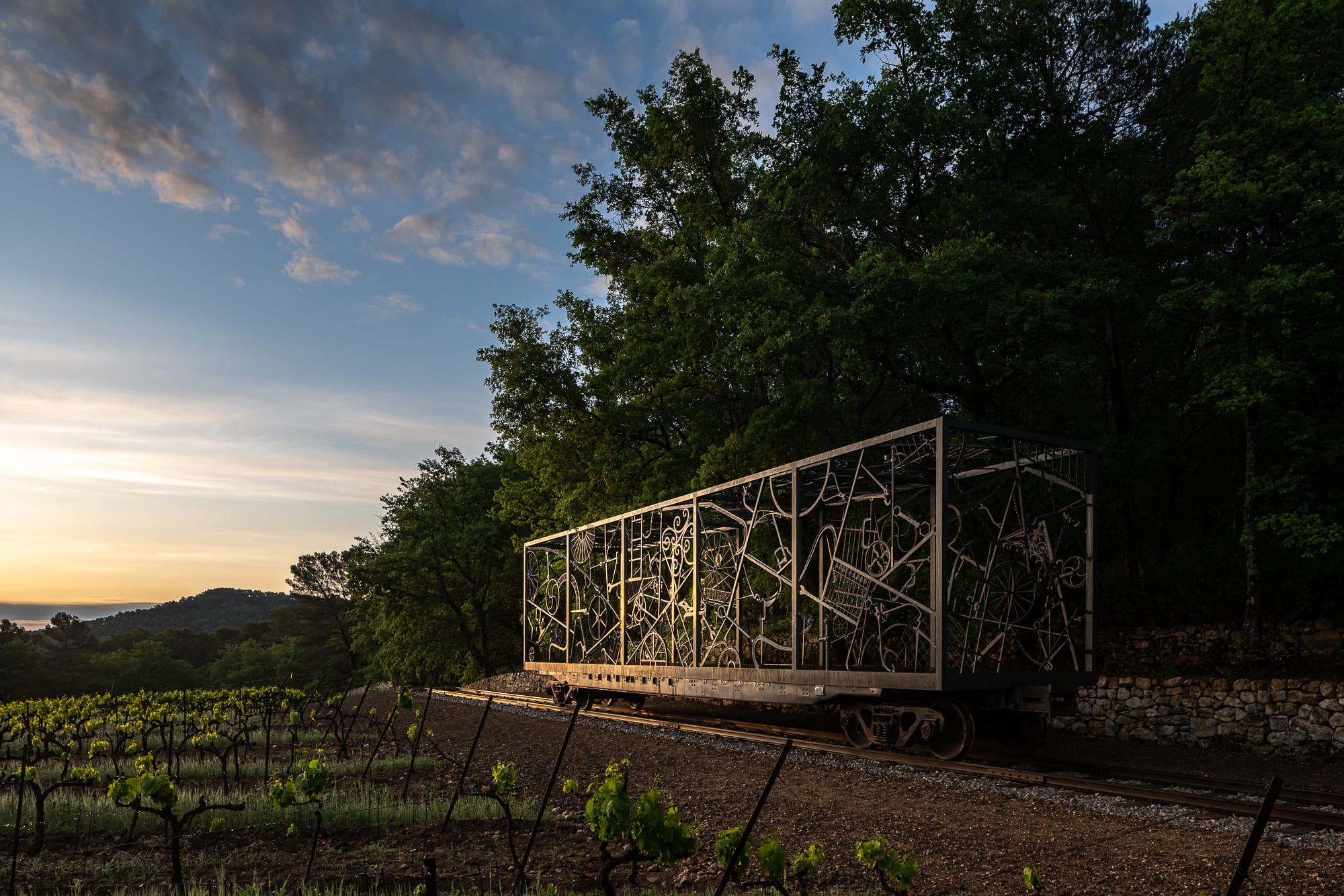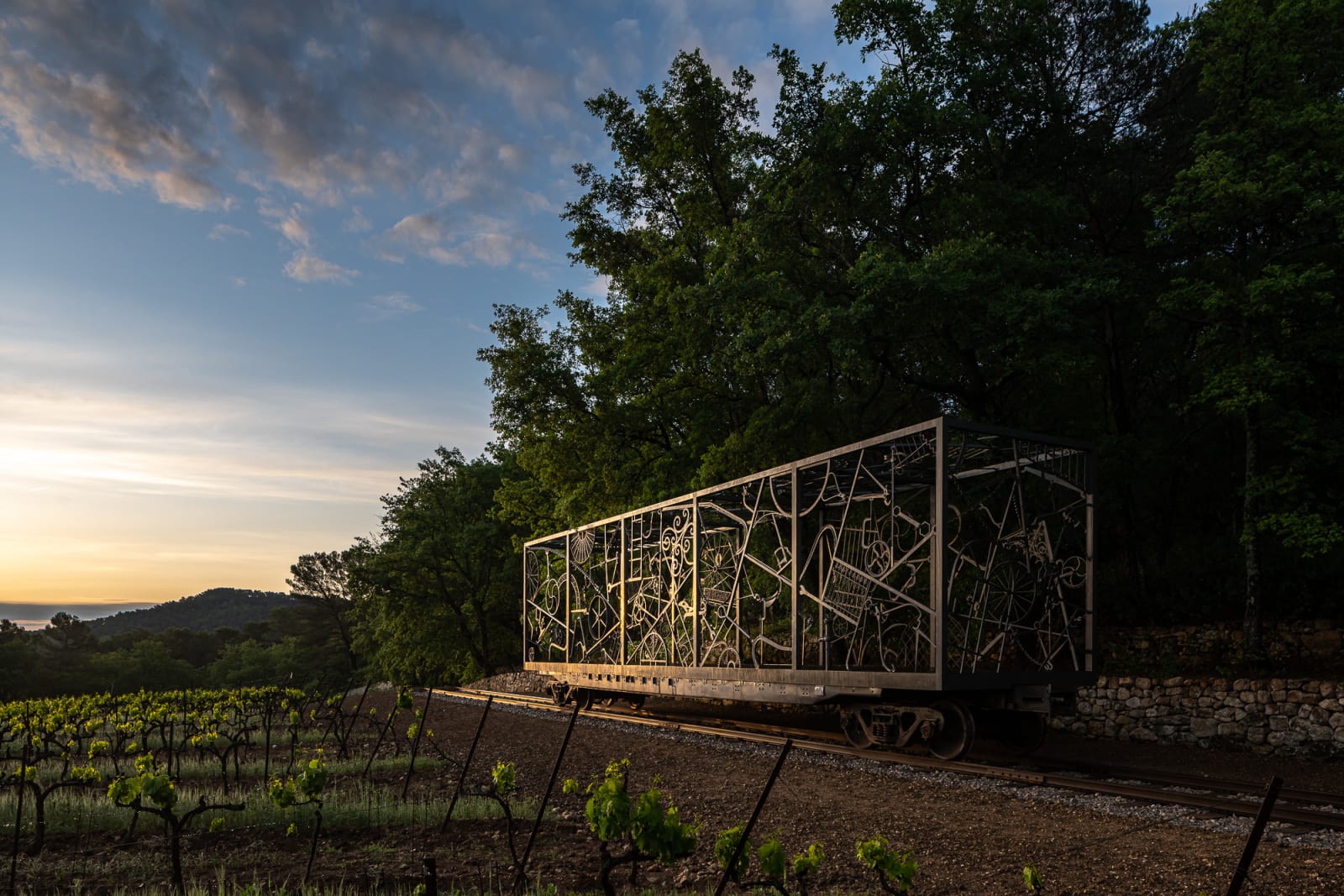 9 May 2022
Bob Dylan: Rail Car at Château La Coste, France
Bob Dylan has unveiled his largest sculpture to date at Château La Coste in Provence, France. Rail Car, the new site-specific ironwork sculpture, has been created for permanent installation in the Château's outdoor art estate, to be displayed alongside works by leading contemporary artists and architects such as Louise Bourgeois, Ai Weiwei, Tracy Emin and Tadao Ando.
Rail Car - an immersive, ironwork freight car installation set on train tracks – engages prominent motifs in Dylan's art, as well as relating to aspects of his past. As Dylan describes in his Chronicles: Volume One, 'I'd seen and heard trains from my earliest childhood days and the sight and sound of them always made me feel secure. The big boxcars, the iron ore cars, freight cars, passenger trains, Pullman cars. There was no place you could go in my hometown without at least some part of the day having to stop at intersections and wait for the long trains to pass.'
The repurposed freight car that Dylan has integrated into the sculpture is a WIIX 723 double-door boxcar used to transport paper rolls for Willamette Industries, a timber and paper company based in Oregon. Work began on Rail Car in the summer of 2019, involving engineering teams in both France and the United States. The artwork was first created in Los Angeles, then disassembled, crated and shipped to France to be installed onsite at Château La Coste.
'The car has been placed in the most magical setting on the old Roman road that meanders through the forest here [at Château La Coste]. It is incredibly moving that Bob personally chose the location for his masterpiece to be on this trail that was trodden for hundreds of years by weary travellers. When I first met him in Los Angeles something obviously clicked – perhaps it was because both of us love the unique Provencal landscape – or Bob wouldn't have embarked on his incredible journey to create Rail Car. Since his piece is all about travel, Rail Car miraculously fuses road and rail into one.'
Paddy McKillen, Founder and Owner, Château La Coste.

The unveiling of Rail Car coincides with an exhibition featuring 23 of Dylan's paintings, entitled Drawn Blank in Provence, running until 7 November in Château La Coste's Renzo Piano-designed art gallery.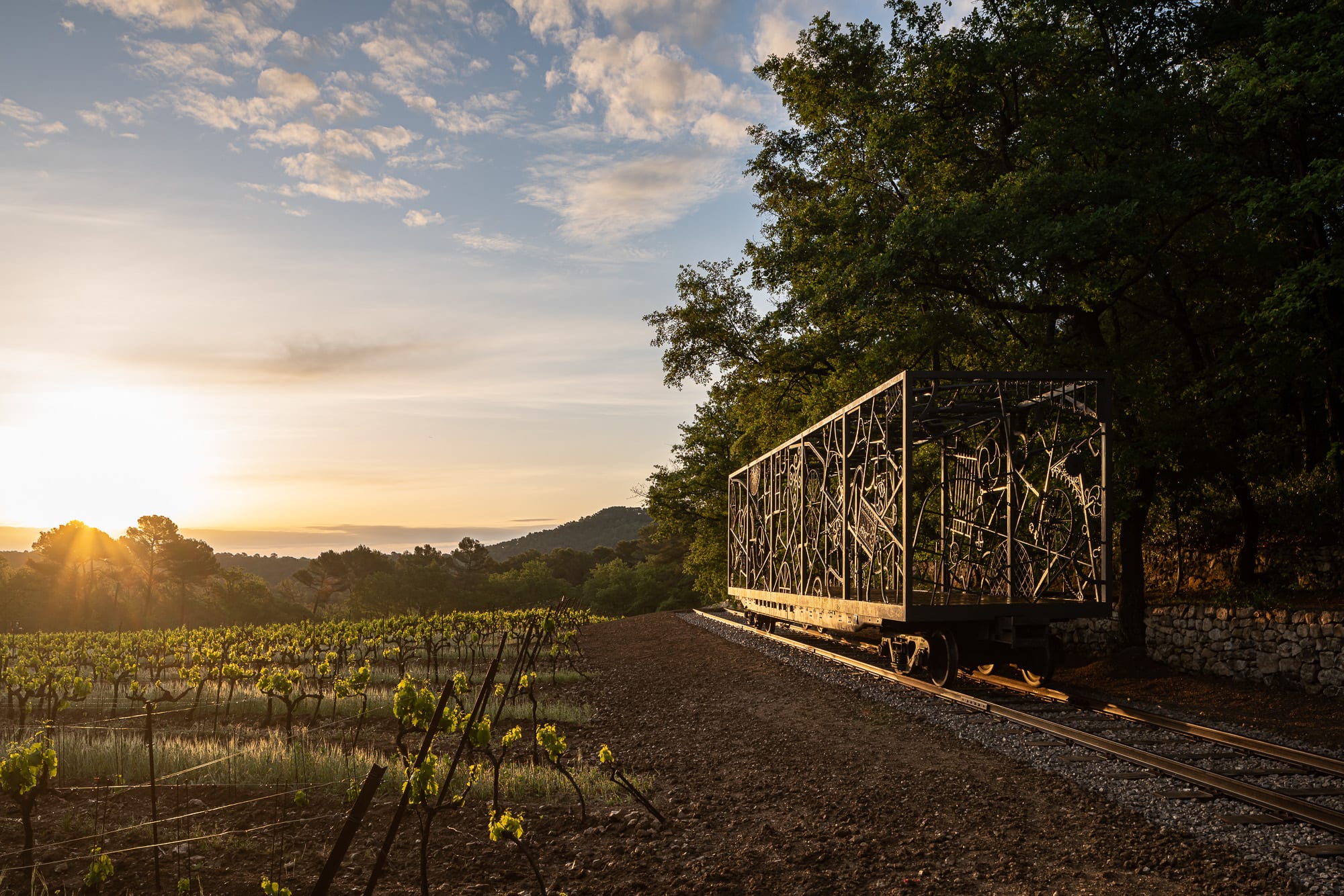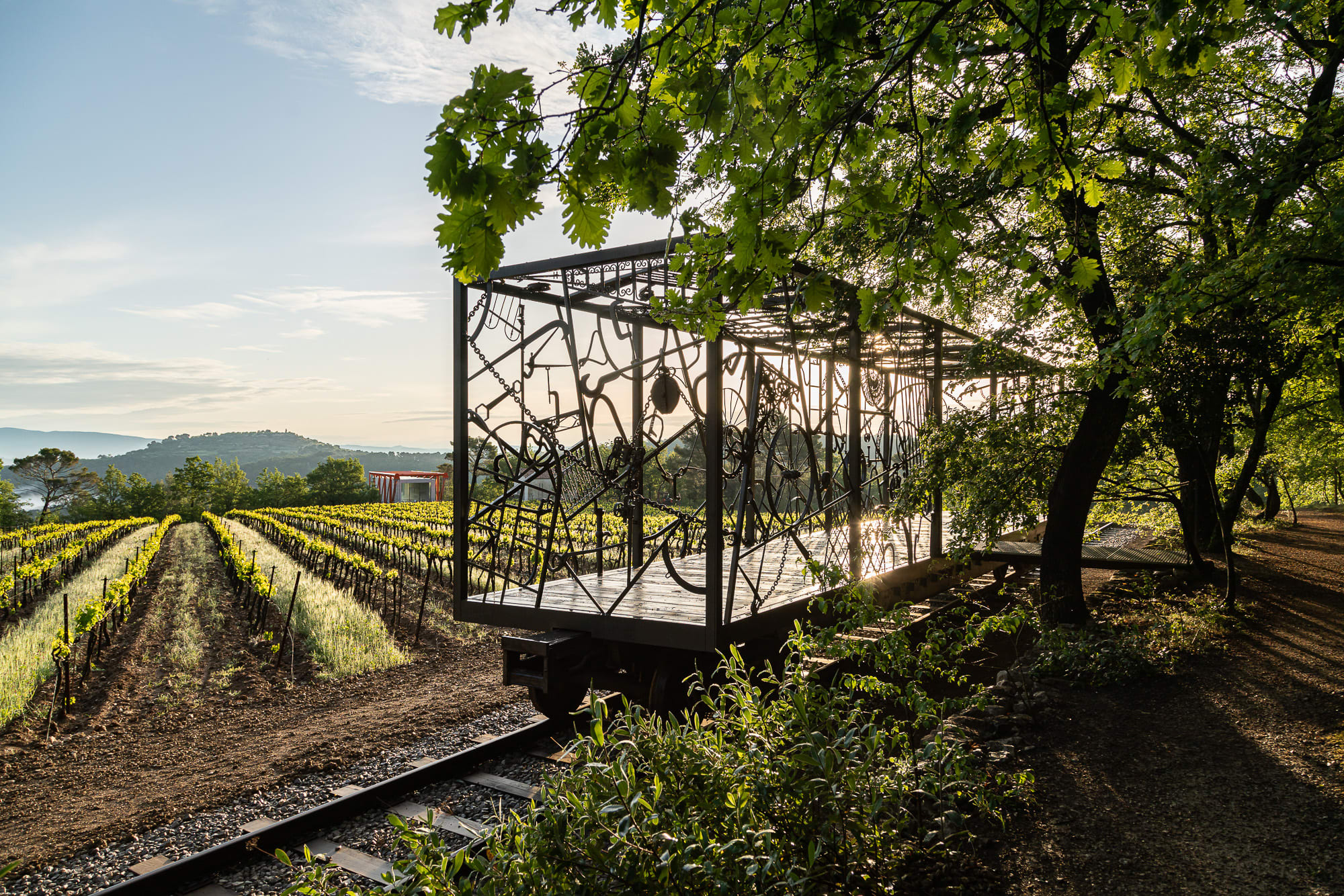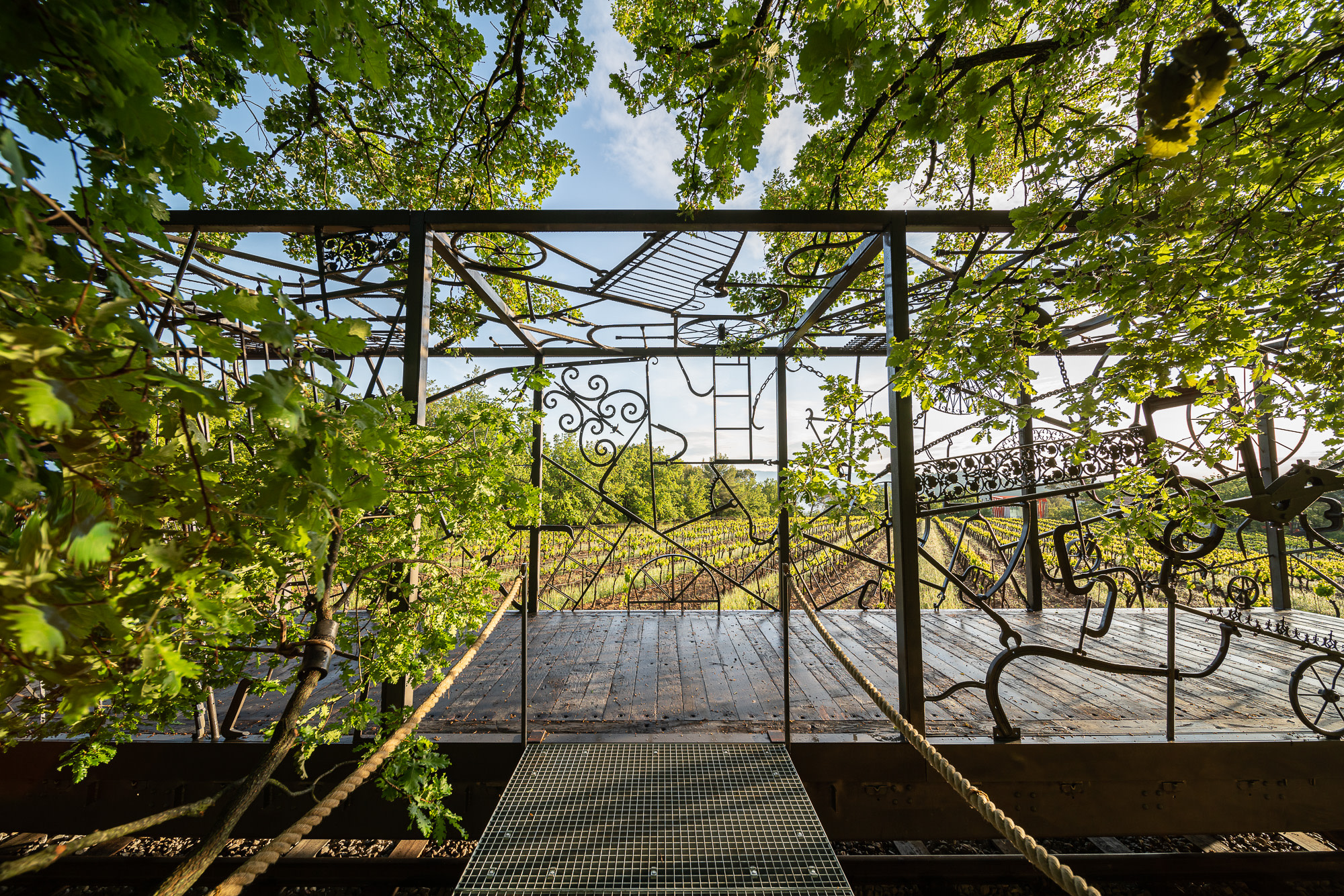 Rail Car at Château La Coste, Provence, France
'I've been around iron all my life ever since I was a kid. I was born and raised in iron ore country where you could breathe it and smell it every day. And I've always worked with it in one form or another.'
Bob Dylan
Bob Dylan at Château La Coste